&nbsp

12 Prefixos comuns i el seu significat
12 Prefixos comuns i el seu significat
Si has estudiat l'anglès, hi ha moltes possibilitats de que hagis sentit a parlar dels prefixos.
Els prefixos són un grup de lletres que es col.loquen al principi d'una paraula per canviar el significat de la paraula a què s'adjunta, o, més ben dit, crear-ne una de nova. Un prefix no es pot utilitzar sol. Vegem alguns exemples:
I'm uncomfortable with speaking Italian. I need to study and practise more often. [Un- + comfortable = not comfortable]
The boy felt demotivated after he failed his test. He thought he would get a better grade. [de- + motivated = opposite of motivated]
Have you watched the new 'Mission Impossible' film? Tom Cruise does his own stunts! [Im– + possible = not possible]
Les paraules en anglès poden consistir en diversos prefixos: anti-pseudo-classicisme (que conté un anti-prefix i un pseudo-prefix).
Hi ha molts prefixos en anglès, però avui farem una ullada a 12 dels més comuns.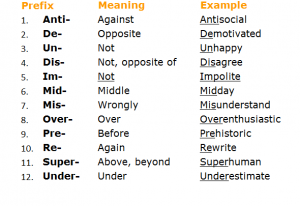 Conèixer el significat dels prefixos l'ajudarà a endevinar el significat de les paraules!